Climb Mt Apo: Winter Trek Log by SMU Trek Club
Winter Trek log by Singapore Management University
Climb dates: December 06-08, 2016
source: https://twwk.wordpress.com/
Mount Apo is located in Davao, the southern part of Philippines. It is the tallest mountain in Philippines and stands at 2954 metres. In Filipino tongues, it means "master" or "grandson". This was an unofficial trip by the SMUX Trekking Team, in view of opening up a few slots to the seniors.
Day 0 Arrival
At 3:15pm, we board our flight and flew off for Davao.
Touched down the second time in a day, and there was no need for immigration checks given it is a domestic flight. As it was raining, the baggage coming in on the conveyor belt was slightly wet. Thankfully the raincover did the trick. We managed to meet up with Margaret, our liaison and the Managing Director of our Vendor, Discover Mt. Apo. Her guide, Oliver was there too to greet us. We waited for about 10 minutes before the minivan came to pick us up. The journey to the small hotel took about 15-20 minutes. It was owned by a Dentist, Dr. Ken, and it was cosy enough for the night. We dropped our stuff in our rooms and went for dinner at Jollibee, which we passed by along the way. There we had our fair share or fried chicken, and the counter cashiers were surprised at how we were not ordering rice to go with. Dinner done, we went across the road to stalk up on our water and comfort food for the night. Back at the hotel we crashed at about 11pm after a long day of travelling.
Day 01 Climb Proper
We woke up the next morning at about 330am and got ready in our trekking gear by 4am. Breakfast was prepared for us and they served rice, a couple sausages, and a sunny side up egg. Coffee was instant made and we got up the minivan by 430am. The ride to Santa Cruz was about 2 hours long and we all crashed on the van, due to the lack of sleep.
When we hit the mountainous area of Santa Cruz and the roads started to wind, we woke up to see the scenery around us. Most part of it was just isolated one lane roads and it does not seemed like there were any villages or town around for civilization. However once we reached the destination for our change in transport, the town area was lively and abundance of routine market selling on a day to day basis. The weather there was really cooling as well, standing at about 18-20 degrees Celsius. We took our trek bags and waited for one of the most anticipated rides for this trip.
4 motorcycles pulled up. They were more like the mountain range of race bikes, just slightly longer in length and bigger to fit about 3 people on its seats. We broke up into pairs and each hopped onto the pillion rider. The last one was to secure all our trek bags and the portal's. It was a one hell of a motorbike ride. We soon understand why we had to switch transport, as the roads started to go up and down like a roller-coaster. Going up and down was extremely exhilarating, and it felt more like flying with the bumps on the roads and with the wind in our faces. It felt as though we could fly off anytime too. Kenny and Siang Kiat had a moment whereby their driver rode wrongly into a bumpy path and went "Oh no" calmly. Their hearts stopped for a moment and froze in fearful anticipation. It was funny after we all got off and recounted the experience. It took about 10-15 minutes that one hell of a ride, and our thrill-quota was probably fulfilled by then. We reached the dead end of a road via a left turn and reached a small river side. And then we started our trek officially.
The starting terrain was slightly rocky and we went through a couple of agricultural villages. The temperature was not too hot and the sun was up by then. We finally hit the main village after about 20 minutes hike, and our portals and guides offered us some chicken nuggets to eat while they have their own breakfast. There we got to know their names. There was Oliver, who was with us the day before. Glenn who seems to be the main guide, and Rocky the fittest looking among the 3 of them. He had a pony-tail as well. We continued on at about 830am and headed towards the forest area. The dew was not that bad and the mud was fresh from the morning dew. The 2 ladies took the lead and went ahead. As we went deeper, the vegetation covered the sun, and the surroundings were quite saturated with fresh air. We started to warm up from our hike and the body temperature kept us warm. The terrain was slightly muddy but overall it was easy to keep up with one another. The guides had a tougher time due to the load they were carrying for us. We got to know them better along the way. Glenn have a 7 year old daughter, while Rocky has 3 daughters. We had a few stops in between and we drank up at each stop. At about 11am, we stopped for lunch, and the guides had prepared rice for us. They heated up a ready cooked chicken drumlets with wings and took out some eggs for us. They have the practice of serving us first and letting us eat, before they consume on their own. As we were hungry from the hike, we digged in for our first meal of the trek. Simple, but yet pretty filling. The guides had their smoke break while we chilled and talk. At about 1130am, we continue our hike.
45minutes later, we hit our checkpoint of the day. It was our campsite for the night. The guides reconsidered the first location and decided to pitch in another area where it was less moist. They took out a huge canvas sheet and tied strings to each ends. It was pitching basha style. Then it started drizzling and we all hid under a small one they set up while they open the tents for us under the basha. The 4 guys took the side to side tents while the girls took one across with their own basha sheltering. We all just lay in our own tents for a moment, like we were all in our own world. It felt good to just get lost in the moment and time, knowing that we can safely do that. After a while, the girls came over and we started playing cards and playing music. The guides prepared coffee and tea for us in the mini cups they gave us at the start of the trek. It's a small little metallic cup with their company's logo on it. Ben Chan went to rest because of the lack sleep over the past few days and he had completed another trek before that. The rest of us played S-O Taiti, and listen to Korean ballads and westlife. Had a really good laugh as Kenny was King for the first 2 rounds before falling after a revolution. Shujun started out as the S-O, and was King later on in the middle part. The fall from grace for the rest of us was just too much to bear, especially when she as king taunt us along with coldplay's 'Fix You' lyrics. We couldn't accept it so we played until she retained her starting title as S-O. Fun times. The guides then told us to lower our music so they could bird watch and occasionally they threw a rock at a metal plate to scare off monkeys. By 5pm it was starting to turn dark and they have prepared dinner for us. Dinner consists of a cabbage soup boiled with ginger and pork. It was nice and warm especially as it started to go colder at about 12-15 degrees Celsius. The soup was served along with rice and sausages. After the dinner, we had our turn with cooking, and made our own dessert of apple crumble (For recipe please refer to the bottom of this blogpost). The guides kindly got us apples earlier on before the trek as we requested for them. Shared them with the guides and we cleaned up after dinner. The latrine points were just the open shaded areas around our campsite. We were in our tents by 8pm and heart to heart talk across tents, before crashing about 30 minutes later. The altitude at this point was about 1800m.
Day 02 Climb Proper
We all woke up at about 4am, and were too cold to get out of our sleeping bags and tents. We just waited in our tents until the guides called for breakfast at about 445am. When we got out it was super cold and we had to layer up with our hardshells. Breakfast was rice with sausages and they made coffee for us again. We ate first once again, then the guides had their share. While they ate, we stood in a circle and chilled. Then, we started noticing Shujun taking a stick and cleaning her shoe. At about 630am, the guides clear up the camping site and pack everything up, as we got ready to continue our trek up Mt.Apo.
The terrain was still foresty as we went up further. We were still in our hardshells as the sun was not up yet. It started to became dryer has we went higher. We hiked for about 40 minutes before reaching a turn into an old dried up river with plenty of boulders. We kept our hardshells by now and took out our gloves and started our ascend up the boulders. There, Clinton managed to find a 'Bamboo' trek pole. As we got higher, the boulders became prominently dominant and there was a paradigm shift in terrain. All the way up was just boulders. We soon broke into 2 groups, as Siang Kiat has a phobia of heights. The exposed boulders created a potential free fall sensation at times, and he had to fight that off mentally. That took a lot mental sources along with the fact that physically he had to push himself up. Shujun, Jingying, Kenny, and Ben Chan went ahead with Glenn, while Clinton and Siang Kiat was with Oliver and Rocky. Sulphur smell became strong as we were bouldering up next to a channel of Sulphur-emitting ground. The climb took quite a while as we hike from a lower boulder peak to the next one on the right. Clinton and Siang Kiat could see the other group on the other side at one point. We finally hit flat ground at about 1130am, and had our lunch-rice with luncheon meat prepared in the morning, along with cans of beef meat. Then sun was blazing strong and we took out our sunny sun glasses and applied sunblock. Ben Chan changed to contacts and wore his sunglasses. We finally realized that the guides actually have our leftovers after we finish eating, so we portion ours nicely so they do have a share. They offered us vinegar-like sauce as well to go along with our rice and luncheon meat. We started at about 1245pm again and went up a very steep climb. Less boulders with small paths carved out. We hit the crater at about 130pm, and the crater of water body was just spectacularly beautiful. The wind was very strong as well, and for a few moments we lost our balance when we started walking again. Climbed up the sides of the crater on the left-hand side and we finally hit the summit at about 155pm. Sadly, the clouds were all around us coupled with the strong wind. We were getting wet as the clouds passed through us. That though, we could not contain our joy and took a few photographs before placing a rock above all other rocks that other trekkers have been before. Leaving a mark, with a small mountain of rocks, on the top of Mt. Apo. We headed back down to an area where we left our trek bags earlier on before the summit climb. We collected our bags and headed to our campsite, which was about 15-20 minutes away.
The camping area we reached is beautiful. The grass was soft and smooth; the area was surrounded by the 7 different peaks of boulders and shields us partially from the wind, allowing a cool breeze to greet us. The guides set up the basha behind a huge vertically lifted boulder to shelter us from the wind at night. We just sat out in the open and it felt so heavenly. It started to get better as the clouds cleared and the sun was up to warm us up.
The guides cooked us some crackers snacks while we were just embracing the sunshine. It got all of us excited again and a bottle of instant apple tea added to the simple joys we have. We continue talking for about 2 hours until the wind became too strong for our liking and we went back into our tents. At about 530pm we went to catch the sunset. I think I will let the pictures do the talking here. (Photo Credits: Ben Chan Zhong Wei)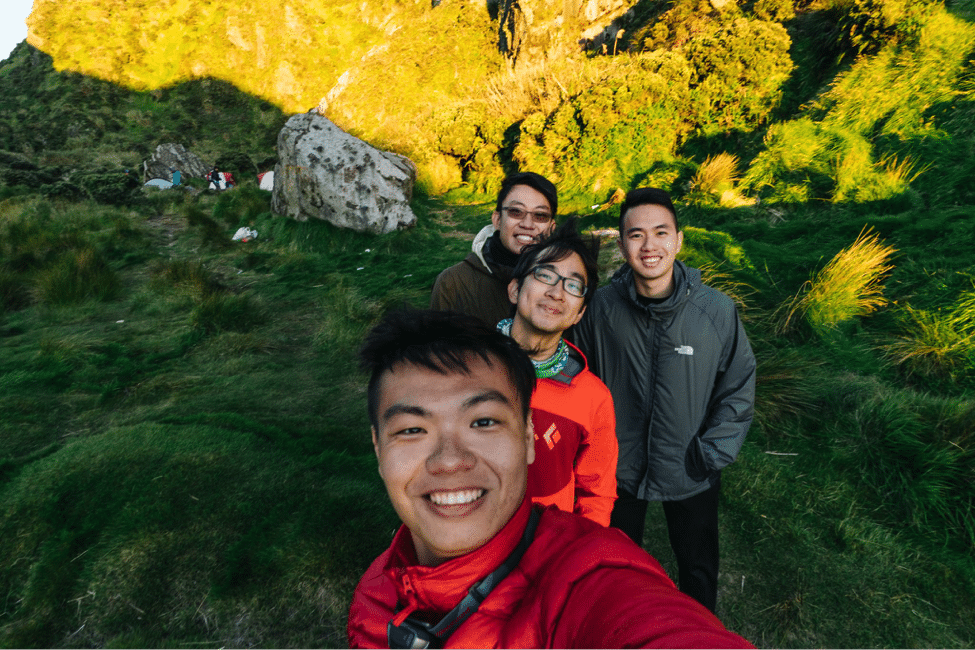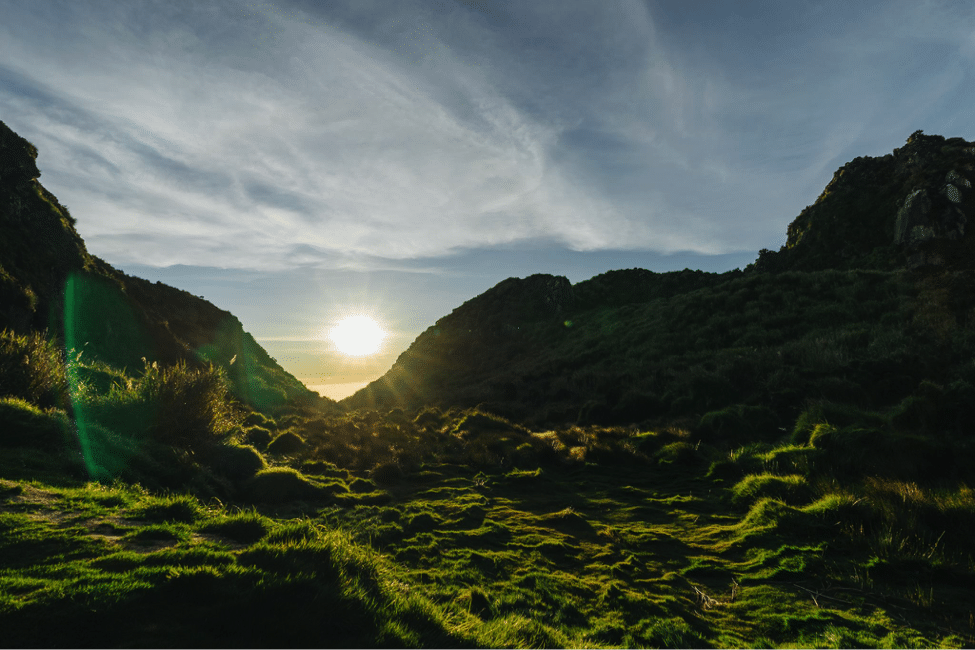 We went back to our tent areas for dinner after and had a similar ginger and garlic soup with corn and mincemeat. After that we made our second serving of apple crumble for dessert. It was getting really cold at about 5-6 degrees Celsius, the wind was strong too. At about 830pm or so we went out for star-gazing. We turned in for the night at about 9pm, peacefully in the mountain haven.
Day 03 Climb Proper
We woke up at about 430am the next morning. We kept sliding down in the tent due to the slight elevation of the ground. The guides made us some tea and coffee and we went to catch the sunrise at about 530am. Again, I will let the pictures do the thousand words.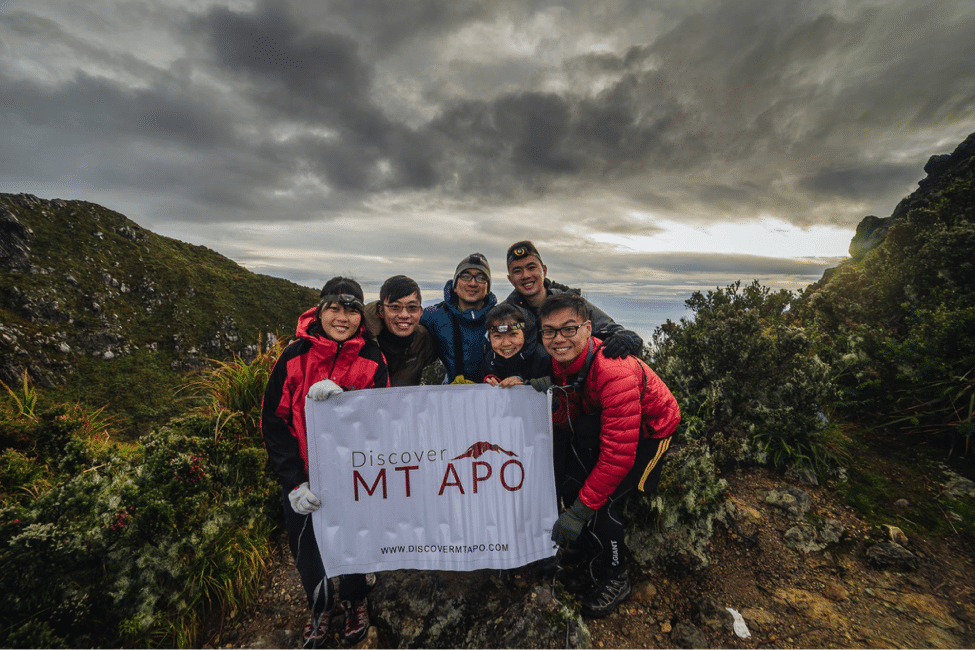 We head back to the campsite and pack up before beginning our descend down the same way we came from. We had a water source at the top of the mountain, which we purified with our purification tablets as well. The descend down was a lot faster, but it was slightly damaging to our knees. By mid-day back, we were all super shag and tired. We managed to hit back the village at about 230pm, after starting around 745am. The guides called the motorbikes, and we had to ensure we will not fly off them, even though some of us were physically too drained for the adrenaline ride again. Hit the transport transit and we all bought coke and sprite to celebrate, before heading back to Davao city. We all crashed on the Van back.
Dinner was at about 830pm and we had BBQ chicken and chorizo and squid. We just whacked since we were all super hungry. Each of us paid about 200 pesos. We went back to the hotel and said our goodbyes to Glenn, Oliver, and Rocky, tipping them 500 pesos from each one of us. Washed up and crashed as we needed to catch our plane back to manila the next day.
Fin
Thanks for the fun memories guys!
https://discovermtapo.com/wp-content/uploads/2016/03/SMU9.png
650
975
A&D Admin
http://discovermtapo.com/wp-content/uploads/2015/12/Discover-Mt-Apo.png
A&D Admin
2016-03-02 17:00:03
2018-03-22 05:04:12
Climb Mt Apo: Winter Trek Log by SMU Trek Club