Welcome to Discover Mt Apo (Discover Tour and Guide Services)
Climbing Mount Apo – The Discover Mount Apo Way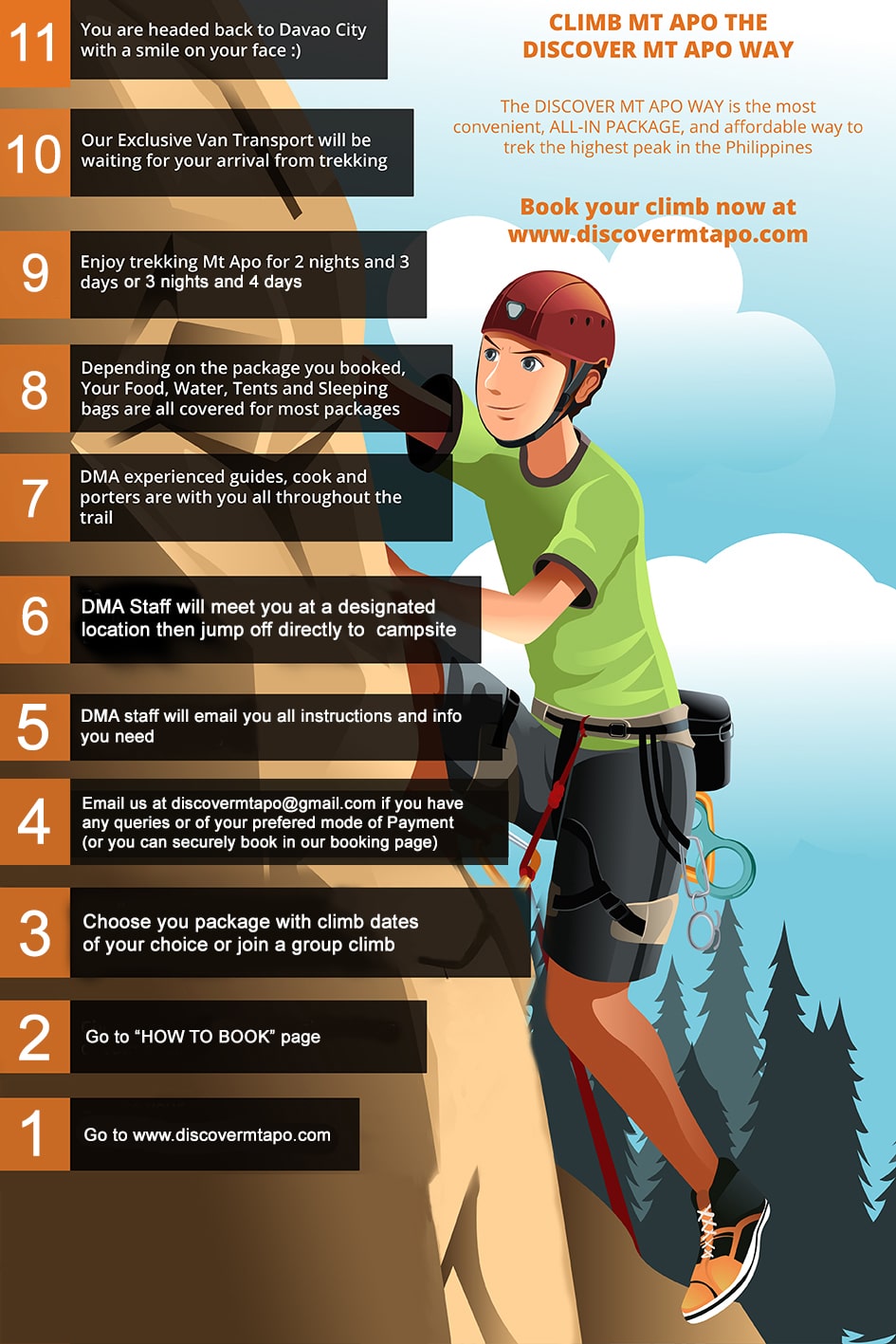 Are you a novice climber who seems to be daunted by the preparations needed to scale the country's highest peak? Or are you a seasoned adventurer who simply wants to experience the exhilaration of conquering Mindanao's mightiest mountain?
We at Discover Mt. Apo understand the different motivations of climbers. Whether you are newbie who is still getting the hang of scaling mountains, or a veteran mountaineer who has perhaps done it all but is looking forward to a challenging climb, we guarantee that all will have a fun-filled, educational and memorable experience.
With our wide range of guided tours, you will have a chance to view the breathtaking beauty of Mt. Apo's flora and fauna, while witnessing firsthand the life and culture of the indigenous tribes living within the area. We believe that mountain climbing is not only a test of skill and stamina, but is also an opportunity to commune with nature and revisit Mindanao's rich history.
In keeping with our desire to give our clients a bigger bang for their buck, our tour packages are reasonably prized and will surely cater to your budget. Whether you choose a solo tour or go as a group, the take-aways will be more than worth your investment. Our simple three-step booking procedure, which can be done online, offers you a secure and hassle-free way of availing of our tours and gives you more time to prime yourself for the climb.
Our seasoned guides will be with you every step of the way to ensure your safety and provide needed assistance. Being veteran mountaineers themselves, they know all the bends and turns of the trail like the back of their hand and will more than pleased to show you Mt. Apo's hidden treasures. They will also teach you survival techniques that would be invaluable in your uphill quest and other succeeding mountain adventures.
So get those trekking shoes, backpacks and tents ready. It's now time for you to take the climb and experience the magic of Mt. Apo.
We also offer van rentals
"Thanks, Discover Mt. Apo Team! I could say was my very first major climb to a summit. Your guys were very professional. The experience was fantastic and the guides helped to top it off by making sure everybody stayed on track. I think if I'll ever take some friends on a major climb, I'll consider Mt. Apo and this team will be top of the list."
Thank you very much for taking care of Ross during his trip to Davao and climb to Apo. Thank you as well for the hassle-free process of arranging the entire trip. Ross really enjoyed himself and I'm sure he'll be back again soon… maybe next time I'll head on over as well. 🙂
Keep up the great work! Definitely recommending you to friends and family who are keen on visiting Apo.
Guides were superb. Trip was tailor-made for my friends. Some were at edge of not making the top, but all made it. All are happy they made the top and back. Thanks!
Thanks to the whole team who made it possible for us!!!!!
Thank you will never be enough to show how grateful I am with the #TeamDMA staff on my first major climb experience. The journey was exhilarating but all the while, the guides were pleasant and accommodating. Anyway, I am highly recommending #TeamDMA!!!
It is all so convenient . tx for arranging it all. Even paying is easy these days  so I just did… Nothing will stop us now…. Peter, don't think we will see you, but thanks a world for all care so far!!!…Yes, we had a really awesome time; everything went very well and was above expectations.
Dreams really do come true! Climbing Mount Apo and reaching its summit is just but a dream, now finally it has become a reality! My first major climb to a mountain's peak and to the highest one in the country has become possible last June 30 to July 2 of this year through Discover Mount Apo's team #DiscoverMountApo. Doubts troubled our minds, weaken our hearts.
Ask for help if needed. As we started on foot, climbing that steep hill carrying my pack bag going to Sitio Colan which for seasoned climbers was just some sort of 'warm-up' seemed to have drained all my energy abruptly. That moment hit me in the head that my preparation was not good enough, as I was catching up my breath so heavily and there was a second right there that I doubted myself if I can do it. Perhaps, my body did not feel well because it so happen that I had my monthly period. My thoughts were "Why it has to be now???", though I see 'it' coming already.
The struggle was so real, it was so tough. I thought my body would gave up on me, but I made it through rain or shine! Thank God! Thanks to Kuya Nel our porter for carrying our bags right where it needed it to be safe and sound. Kudos to #TeamDMA superb guides and pro-ecology warriors Francis, Oliver and to the ever patient head guide and ou r 'sweeper' Elvis. Shout-out to my life savers, Romeo, Jen, Margot, Dominique and Mae. Believe in yourself, don't let your dream slip away. Listen and be prepared. It was 22 days before the big day that I confirmed my registration, still waiting for my travel buddies to sign up, then I was good to go (at least in paper though)! For me, it was helpful to research, read the tips and blogs, even to watch the videos too on the page of www.discovertapo.com.
The checklist given to us and the online communications made it hassle free. But to know a 'bit' of what was there gave some apprehensions, actually the decision to pursue this was not quick and easy because we expect that June-July comes with a rainy season and that surely will truly be a difficult and dangerous climb up there! Fortunately, God was so good and the weather was bearable for all of us. Our clothes were secured from getting wet as it was packed with plastic bags, thanks to the immediate advised by the #TeamDMA. It rained in the afternoon of day 1 (June 30), and on day 2 (July 1) while we were at the peak waiting for the sunset. Lucky we finished our dinner just right on time before the heavy rain poured at Campsite 2; the night was freezing until morning of the third day (July 2). Go beyond the limits; Mother Nature will provide. The Trail tested our limits!
Our endurance is not limitless, we also got tired but Mount Apo has given us beautiful resting sites along the way where we can fill our lungs with oxygen, look around various plants, take a sip of refreshing water chilled by nature's low temperature or even mingled and talk to our fellow climbers. As we jumped off from Sitio Tampis, huge rock nestled in the grassland, dead trunk of anotong or tree fern, the rock in the Tinikaran campsite carpeted with mosses, the Lion's Head, and the great boulders became our oxygen-charging-stations.
Mount Apo was so gracious it provided climbers sweet berries along the boulders to quench thirst and soothe dry throats while heavily gasping for oxygen in the air mixed with sulphur gas. We can be pro-ecology warriors in our own little way. The damage to Mount Apo Natural Park due to the forest fire more than a year ago still remains visible. The dead and burned shrubs were still there, around the crater and along the other side of the ridge. Ferns were growing on the ground below these shrubs, I think it must be the start of recovering.
We saw that our Mount Apo is still is starting to heal and re-opening it may pose some disturbances again. This trek made me see the flora that was there for the very first time, some of which are threatened like the Tree Ferns or Anotong, didn't expect to see relatively visible Lycopodium (or Lycopodiella) along the grasslands and at White Sand campsite, and fern that is difficult to find like Ophioglossum! There were unique plants, trees, ferns and mosses that we have not identified, unfortunately. My trek buddy was captivated by the beauty of mosses which have so delicate and very fine unique structure.
We saw birds inside the forest unknown to us and even in the boulders. I just hope that the wildlife told to us by our humble guides are still there existing and not struggling to live. I commend our three guides for dedicating themselves as volunteers in putting out the forest fire more than a year ago. Chasing sunset or sunrise may fail, but there is always a rainbow after the rain. All the physical hardships that we went through the trail and the thoughts running inside our heads were eventually blown away by the cold wind as we reached the summit!
Our faces were painted with smiles and full of wonder and amazement of the great creation and the magnificence of Mount Apo. Though we have not witnessed sunset, we have seen rainbow like no other! Pray. Pray. Pray. This would have not been possible without the protection and guidance of our Lord God who has been always there, in every second and in every step of the way. Everyone went home safely.
OK, this review is long overdue! I wasn't very confident about hiking up Mt Apo because I didn't really train and prepare for it but we all made it to the summit! It had a few challenging sections but the guides were very patient, helpful, and fun to be with! We went during the rainy season so we were wet and cold but we always had a hot soup or coffee waiting for us at the campsite. Just had trouble with the van at departure so we left a few hours later than the scheduled but they apologised and told us it was the first time that it happened. Overall, it was a great experience and would definitely recommend DMA!
We happen to have some other groups climbing with us on the same date and heard some words from their guests that they have not been accommodated very well. Food served by other guides have been not so scrumptous during the whole climb duration, I have seen some climbers getting lost on track due to not being monitored very well by their guides/sweepers. I just feel so glad and so blessed that I have chosen the right agency to book on my first Mt. Apo experience. And truly, the experience I had will be shared to my friends and on my next climb. Expect another booking from me. Keep it up!
As I want to keep coming back for more climbs on Mt. Apo, I will alseo keep coming back for you #TeamDMA. You are very accommodating and have a good team! What else could be asked from you? You are the perfect agency for this. So if anyone who reads this and it is still your first time to climb Mt. Apo (or not), #DiscoverMtApo and #teamDMA will give you good food, good service, and good experience – an overall great accommodation at Mt. Apo.
2nd time availing the service. The trip was smooth and on time. The guide and porters were friendly and accomodating. Had a minor leg pain while on the way back to camp and wasn't left behind. Would love to avail the service again hopefully on a different trail.
Hi, Good day, Big thanks for you amazing services , it was really great to climb mt Apo with your company as you have a very professional guides . i will leave a feedback at your website soon as I didn't get back to my country yet.
Friends of Discover Mt. Apo