Welcome to Discover Mt Apo (Discover Tour and Guide Services)
Climbing Mount Apo – The Discover Mount Apo Way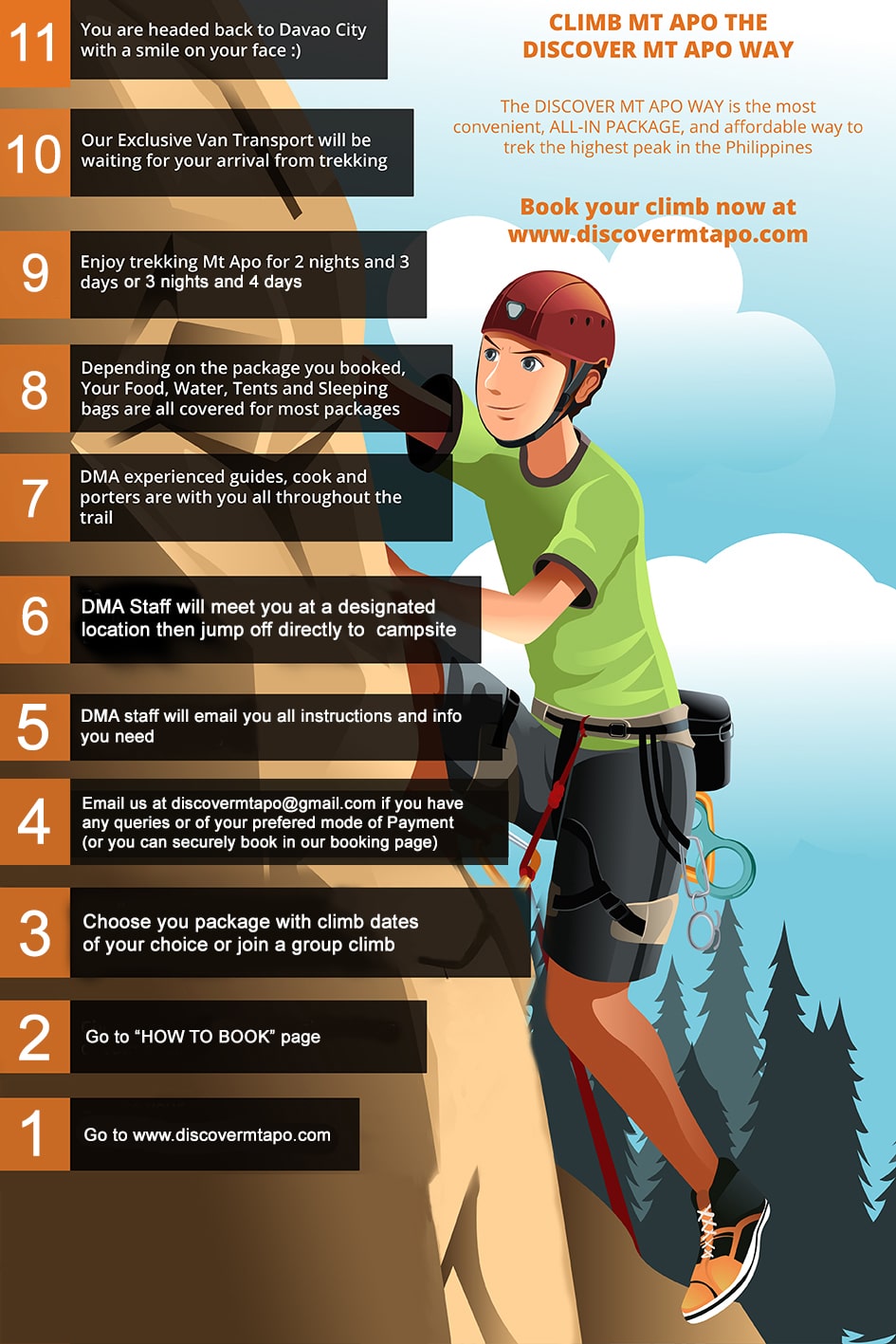 Are you a novice climber who seems to be daunted by the preparations needed to scale the country's highest peak? Or are you a seasoned adventurer who simply wants to experience the exhilaration of conquering Mindanao's mightiest mountain?
We at Discover Mt. Apo understand the different motivations of climbers. Whether you are newbie who is still getting the hang of scaling mountains, or a veteran mountaineer who has perhaps done it all but is looking forward to a challenging climb, we guarantee that all will have a fun-filled, educational and memorable experience.
With our wide range of guided tours, you will have a chance to view the breathtaking beauty of Mt. Apo's flora and fauna, while witnessing firsthand the life and culture of the indigenous tribes living within the area. We believe that mountain climbing is not only a test of skill and stamina, but is also an opportunity to commune with nature and revisit Mindanao's rich history.
In keeping with our desire to give our clients a bigger bang for their buck, our tour packages are reasonably prized and will surely cater to your budget. Whether you choose a solo tour or go as a group, the take-aways will be more than worth your investment. Our simple three-step booking procedure, which can be done online, offers you a secure and hassle-free way of availing of our tours and gives you more time to prime yourself for the climb.
Our seasoned guides will be with you every step of the way to ensure your safety and provide needed assistance. Being veteran mountaineers themselves, they know all the bends and turns of the trail like the back of their hand and will more than pleased to show you Mt. Apo's hidden treasures. They will also teach you survival techniques that would be invaluable in your uphill quest and other succeeding mountain adventures.
So get those trekking shoes, backpacks and tents ready. It's now time for you to take the climb and experience the magic of Mt. Apo.
We also offer van rentals