My Journey to Mt Apo – Part 2: Black Saturday Fire at the Peak
March 26, 2016, the Black Saturday that will be forever etched in my memory.
This is the story of how I became a witness to one of the biggest mountain fires that has devoured Mt. Apo.
It was the second day of my journey to Mt. Apo. As scheduled in our itinerary, we would be climbing the peak and would be spending the night there. We started our ascent at around 7am. There was a total of 7 people in our group. One German doctor (Doc J) three Davaoeño trekkers (Dan, Ralph and I), two porters (Bradack and Wen) and one of the head guides of #DMAFamily (Fresnow Padernal aka Miko).
We left our camp in Tinikaran 1 with much excitement and anticipation. I was so looking forward to taking a lot of nice pictures of the peak especially with the sunrise and sunset since Mt. Apo is noted for it and the sea of clouds. I never would have thought that it would be replaced with fear and disappointment upon reaching the summit.
The journey to the top would take about 5-6 hours depending on the pace of the trekkers. Since it was my first time to climb, I was lagging behind. I was so impressed by the speed and stamina shown by Doc J during the entire trip. I had a short talk with him during our free time. He is much older than all of us and a doctor in Germany. He has been to several developing countries doing medical missions. Currently, he is in the Philippines extending help whenever his expertise is needed. I was wondering why he climbs fast and seems to have an unlimited supply of energy. Well, he told me that he has already climbed a lot of mountains around the world. The Alps and the Himalayas were among them. That explains everything.
Now to continue with my adventure, at the start of the trek from camp 1, there were only five of us who started the climb at 7am. The porters decided to just follow after they had finished packing and cleaning up the area.
The five of us were tailing each other at the beginning. Because Doc J was faster than anyone of us, they already went ahead. Dan, Ralph and I continued the climb all by ourselves. We took a lot of photos along the way which made our trek slower.
The most difficult and challenging part of the trek were the boulders. Here, you will be walking, crawling and climbing on stones. It would probably take about 3-4 hours to surpass this trail. We took a lot of rest on this part of the mountain as this was really the hardest. About halfway through the boulders, we caught up with our porters and another group whom we became friends with during this journey. We talked and shared a lot of good laughs just to forget how exhausting it was.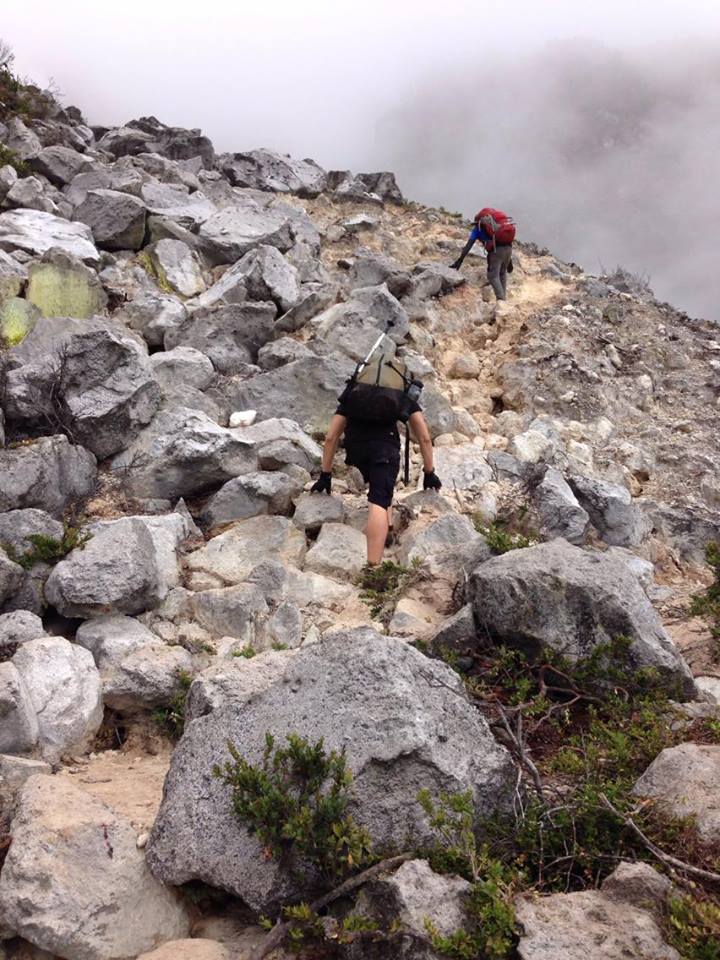 At exactly 1:14 pm, we finally arrived at the peak. I was so elated and relieved that I finally made it. Even though my emotions were soaring high, I could not help but feel upset because there were so many litters everywhere. Cans, cartons, cigarette butts, plastics, you name it, they were all around the place. Perhaps because there were so many trekkers the day before and they haven't finished cleaning up yet. But in spite of that, every trekker should learn responsible mountaineering attitude.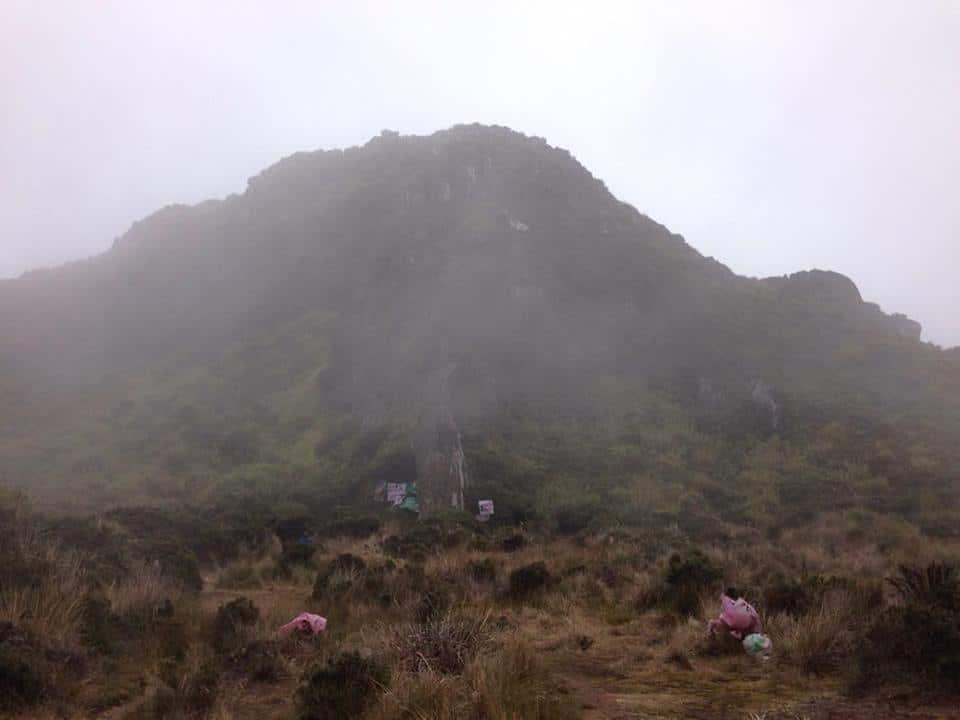 We started unpacking our stuff and prepared for lunch, when all of a sudden we heard people screaming "fire". I saw some smoke coming from one of the peaks. Some guys were running and looking for sticks. Some were shouting for the men to go up and help put out the fire. The natives who were selling goods started packing and were about to leave the place. As for me, I didn't finish eating my lunch and went hurriedly to where the fire was. I didn't bring any sticks as we were told by the porters to just stay where we were but I didn't heed his advice. Armed with only my phone, I took a video of mt apo forest fire.
It was already spreading fast, eating mostly dried grasses and trees. I went back to where my group was having lunch. I showed them the video and told them how big the fire was. From where we were set up, we couldn't see the fire as it was at the back of one of the peaks. We could only see the smoke and hear the crackling fire.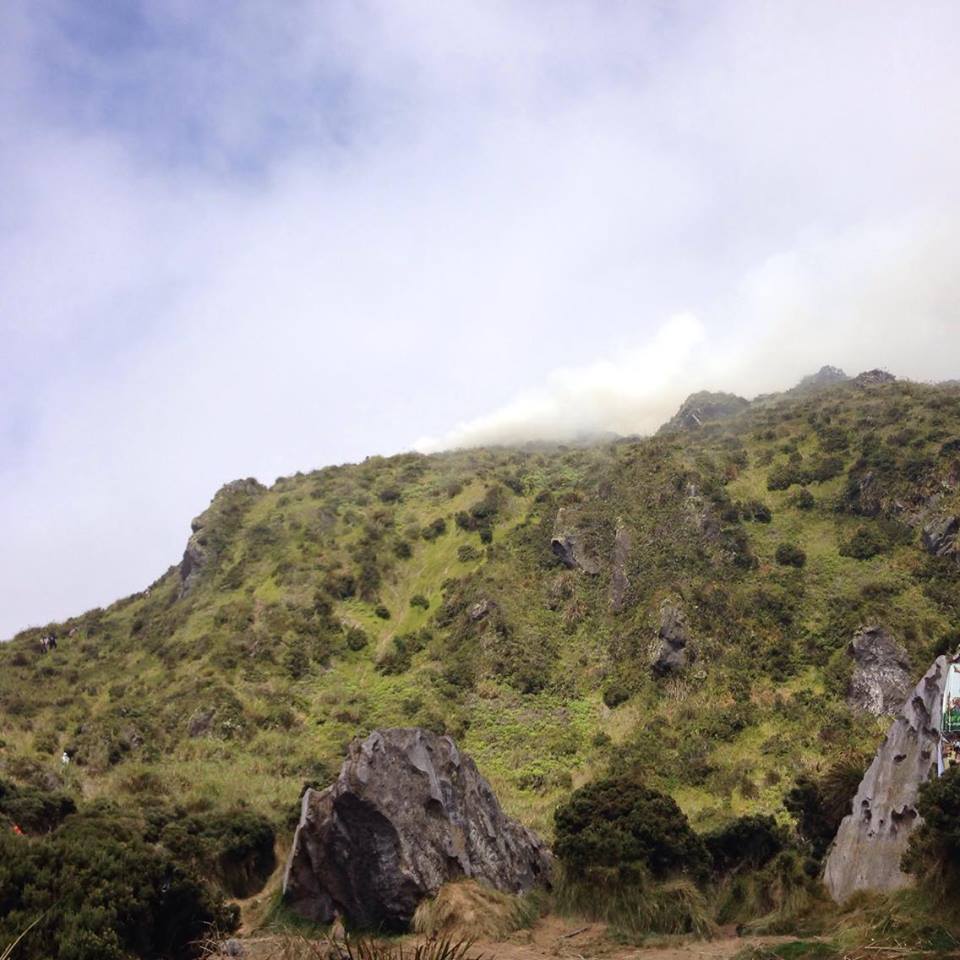 We waited for advice from our guide, Miko, on what to do. Should we wait till the fire would be put out or should we leave immediately? It took us a while to see him, as he was one of those who led in trying to extinguish the fire. When I finally saw him, I could see the pain and disappointment on his face. According to him, it was our German companion who first saw the fire. But he didn't pay attention to it saying that it was only fogs. When he realized that it was really fire, he immediately tried to put it out but it was already too late. The fire had already spread beyond control. I found it funny though that there were some people who said that it was them who started the fire when in fact, they were the ones who saw and helped in extinguishing it. Sometimes wrong information spread like wildfire and people are so gullible to easily believe what they hear.
As per advice of the monitoring team, we need to vacate the place as soon as we can or else we will be trapped and suffocated by the smoke. With a heavy heart and aching muscles, we had no choice but to leave. Because of that fire, I wasn't able to experience sleeping at the peak of the highest mountain in this country. I wasn't able to take the best profile picture so far. I wasn't able to experience how cold it was at night. I wasn't able to experience many things that I wanted to do when I'm up there.
At around 2:30 pm we started our descent back to camp 1. This was the worst part of the trek since we had to pass by the boulders again with only less than an hour of rest and not enough energy to walk. But we had to keep moving, or else we would be trapped.
As I was walking down, I looked back at the peak. There was still smoke in the sky and I can still hear the crackling sound of fire devouring everything it can reach. I was silently praying for rain to come but nature has its own plan.
As of this writing, the fire has already destroyed more than 300 hectares of land in that mountain.  I never imagined that the fire I saw when it was still starting could reach up to this far. This Black Saturday Fire could have been avoided if we were responsible enough in our dealings with nature. But now it's too late, the great damage has been done. All we can do now is to help restore its beauty. It may take long but this is the price we have to pay.
Although not yet verified as an official statement from authorities, Mt Apo is said to close for rehabilitation for 3 to 5 years.
As part of #TeamDMA it is our intention to help in any way we can. Any form of help is greatly appreciated as well to anyone willing to extend in any form. You can reach us at [email protected] or message us at +63932 882 0828.
Rest and heal now our beloved Mt Apo.
https://discovermtapo.com/wp-content/uploads/2016/03/mount_apo_davao_philippines.jpg
315
600
A&D Admin
http://discovermtapo.com/wp-content/uploads/2015/12/Discover-Mt-Apo.png
A&D Admin
2016-04-01 00:07:38
2018-03-22 05:39:40
My Journey to Mt Apo – Part 2: Black Saturday Fire at the Peak